YotaPhone 2 smartphone in Dubai
11 Dec 2014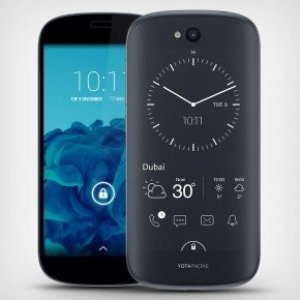 YotaPhone 2 smartphone in Dubai with double faced screen
Yota mobiles, the Russian product starts the smartphone with double screen. It is the world's first 'two-front display' smartphone launched in Dubai on 10th December, tuesday, 2014.
This device helps to keep the important information and notifications without unlocking it. The Gorilla glass will protects this smartphone from certain scratches. YotaPhone is on sale in more than 20 countries in middle east, U.K, Europe etc.
YotaPhone 2:
Main display: 5 inch display screen, 1920 x 1080 pixels resolution
Rear display: 4.7 inch, 960x540 with Gorilla Glass
CPU: 2.2GHz quad-core Snapdragon 800
RAM: 2 GB
Storage: 32 GB
Features: NFC, Tethering, Computer sync, OTA sync
Battery: 2500 mAh
YotaPhone 2 price in Dubai, UAE:
YotaPhone 2 price is approximately AED 2, 999 in Dubai, UAE.