Sony Xperia aquatech store in Dubai, UAE
08 Nov 2014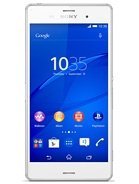 Launching the world's first Sony Xperia aquatech store in Dubai:
Sony company is going to open the world's first Xperia aquatech store in Dubai. It is expected to open on Dec 3rd, 2014.
This a golden opportunity for the selected customers and members of the press to go underwater to view the Sony Z3 series of waterproof smartphones, tablets and other accessories.
The Japanese electronics manufacture has launched many Xperia products as the latest Sony Z3 Dual and Sony Xperia Z3 Compact.